Capital Appreciation Portfolio Is High Quality Core Investment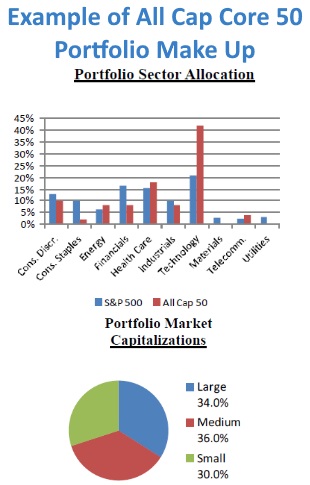 Investors looking for a core portfolio geared towards capital appreciation can opt for our All Cap Core 50. After decades of experience investing and researching stocks, our financial advisors created the rules necessary to form the All Cap Core 50.
We start with thousands of stocks across all market capitalizations and then apply a series of rules to winnow the field down to 50 select stocks.
Our rules help us select 50 stocks to achieve investors' goals.
By minimizing human input, we are able to eliminate personal preference and focus on the merits of each individual stock. To avoid overinvesting in any one particular market sector, the portfolio is automatically weighted and balanced. Periodic rebalancing further limits risk by ensuring no single equity accounts for more than 2% of the total value.
A major benefit to investors is the level of diversification the rules provide.
Instead of relying on human emotion and personal preference, the All Cap Core 50 automatically selects a diversified portfolio across many market sectors and capitalizations. This provides a strong bulwark against disruptions in specific parts of the economy.
The All Cap Core 50's goal is appreciating capital. The rules help minimize risk without eliminating the potential to grow your investments. Combining both growth and value equities, the All Cap Core 50 is an excellent base around which to build a more extensive portfolio.
Contact our financial advisors to begin investing with the All Cap Core 50.
Sample Portfolio Characteristics
| Median Portfolio Statistics | All Cap Core 50 |
| --- | --- |
| P/E 1 Year Forecast | 15.5x |
| Price / Sales | 2.2x |
| Price / Book Value | 3.3x |
| Price / Cash Flow | 16.6x |
| Return on Equity (5 Year) | 16.4% |
| EPS Growth (5 Year Estimate) | 15.0% |
| Market Cap (Billions) | $3.30 |
Example of Largest Holdings (excluding cash)
| Ticker | Company Name | % Weight |
| --- | --- | --- |
| EBS | Emergent Biosolutions Inc | 2.13% |
| DNR | Denbury Res Inc | 2.10% |
| ACOR | Acorda Therapeutics Inc | 2.07% |
| ICE | Intercontinental Exchange Inc | 2.06% |
| ICLR | Icon Public Ltd | 2.06% |
| STMP | Stamps Com Inc | 2.06% |
| QSII | Quality Systems Inc | 2.05% |
| FSLR | First Solar Inc | 2.05% |
| ASGN | On Assignment Inc | 2.05% |
| LOCK | Lifelock Inc | 2.04% |