Large Cap Portfolio Limits Investments to the US's Largest Companies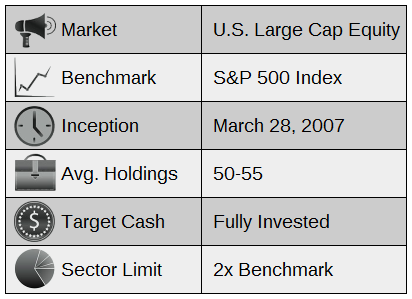 Large cap investing is an attractive way for long term investors to watch their portfolio grow. Made up of the largest publicly traded companies in the US, large cap stocks have a history of slow and steady growth. Lower risk and a long track record of positive gains make large cap portfolios a very popular option to investors who can wait for their gains to accumulate over time.



Our Large Cap portfolio is designed to beat the S&P 500 using large cap stocks only and offer lower volatility.
Large Cap Portfolios Are a Dependable Investment for Long Term Growth.
Summit's large cap portfolio is created using a stringent equity selection process. Our financial advisors limit the initial pool to only stocks of the largest market capitalization. We then screen these businesses though a variety of filters until we are left with approximately 50 of the best stocks. The portfolio is then occasionally rebalanced to adjust to any changes in the market since the time of inception. Through careful equity selection and automatic rebalancing, Summit offers large cap portfolios that stay competitively positioned to maximize your ROI.
Summit does not guarantee future performance and all investing includes the risk of loss.